Author: EnglishTeacher 2023-05-27
They've reached out to the media.
They've written letters to their legislators.
They've created a nationwide petition and now the friends of Marc Fogel have organized a national rally in Washington, D. C. — set for July 15 – to gain support for his release.
"I don't know what else we can do at this point," said Dennis Fogel of Shelby Township, the cousin of the American history teacher who was detained in Russia in August 2021.
Marc Fogel, who taught the children of U.S. diplomats living around the world including Colombia, Venezuela, Malaysia, Oman, and Russia was arrested at Sheremetyevo Airport in Moscow for possession of less than 20 grams of cannabis, which had been recommended by a doctor to treat a spinal condition. He was given a 14-year sentence and is currently serving that time in a prison colony.
Marc's plight parallels that of WNBA star Brittney Griner, the two-time Olympic gold medalist and Phoenix Mercury basketball star arrested at the same airport after Russian authorities said she was carrying vape canisters with cannabis oil. What's different is, not long after her arrest, the US State Department declared her as wrongfully detained —just as they've done for Michigan's Paul Whelan, a corporate security executive who traveled to Moscow for a wedding and was detained by Russian authorities on espionage charges and most recently, American journalist Evan Gershkovich.
It's this important designation by Washington that moves these cases to the jurisdiction of the federal government's U.S. Special Envoy of Hostage Affairs Ambassador Roger Carstens; and additional resources for their release, which is what Fogel's family has been fighting for.
After being declared wrongfully detained, U.S. officials negotiated a prison swap for Griner's release.
As for the teacher?
"I have no news to report," Dennis Fogel said, except to say the family is extremely frustrated, especially after hearing another prisoner swap could be in the works for the release of Gershkovich and Whelan.
Fogel said it's not that his family isn't happy for Gershkovich, Whelan, Griner and any other American released from Russia, only that once again, what about Marc?
His sister, Anne Fogel, said it feels like her brother has been forgotten.
During an interview with CNN she said that the State Department has not declared his imprisonment as wrongful detainment despite him having been arrested and incarcerated for the same things as Griner.
Nor have they given the family, including Marc's wife, Jane Fogel, any explanation for this disparate treatment. Instead they have been told: "'This is a process. We're aware of the situation. These things take time.'"
It's been nearly two years since Marc was detained.
That's a considerable amount of time for a 61-year-old to endure in a Russian prison, where overcrowding, abuse by guards and inmates, limited access to health care, food shortages and inadequate sanitation are reported by human rights groups.
But that's not what the family talks about.
Instead, during the rare moments he is given a phone call, his family feeds him uplifting stories about his wife, sons and 94-year-old mother. They also share news about his home state of Pennsylvania, where he's known as a beloved and dedicated teacher who spent more than 35 years enriching the lives of students at home and abroad. His most recent teaching assignment was at the Anglo-American School in Russia, where he taught for nine years.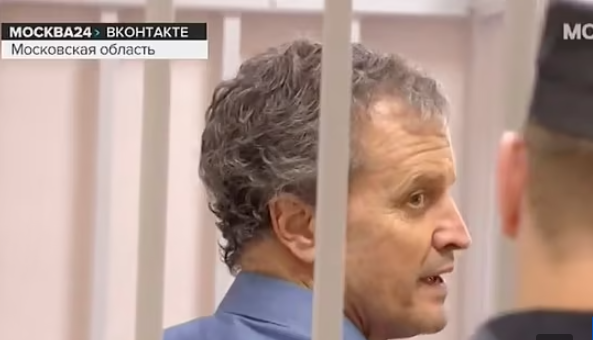 He was serving his final year before retirement at the time of his arrest.
Fogel said one way people can help would be to support a "Declaration of Wrongful Detainment" for Marc by emailing Secretary of State Blinken at S_SpecialAssistants@state.gov.
"The more times we can raise Marc's name with the State, the better our chances," said Fogel.
The friends and family of Marc Fogel also have a petition on change.org to implore the Biden administration to designate Marc Fogel as a wrongfully-detained prisoner and pursue his release.
U.S. Rep. Mike Kelly (R-PA) along with several other members of congress signed on as original co-sponsors to a resolution urging the State Department to declare Fogel as "wrongfully detained."
"We are asking you not to forget about Marc and the other Americans, whom, though less famous, suffer equal mental, emotional and physical harm and whose families are equally burdened by stress and loss due to their wrongful imprisonment," said the post.
To join the petition visit change.org/p/free-marc-fogel-from-wrongful-detainment-in-russia.
The Washington rally for Marc Fogel will be held at 1 p.m. July15. For more information visit the Freedom for Marc Fogel Facebook page.
Source: https://www.macombdaily.com